"The Lost Boys: The Tribe" aka "The Lost Boys 2" (2008, P.J. Pesce, Thunder Road Pictures, Hollywood Media Bridge) is the sequel to 1987 vampire film, "The Lost Boys".
I am a huge fan of the original film. It's funny, silly and gross and full of good tunes. The sequel, unfortunately, pales sorely in comparison. Even the extremely goofy third film, "The Lost Boys: The Thirst" manages to outshine the second one, even if it's only because it actually attempts to alter the plot somewhat.
The problem with "Tribe" is that it is a badly done redo of the original. Instead of the two Emerson brothers being forced to move to the fictional seaside town of Santa Carla, California to stay with their nutty grandfather and their kind of loopy divorcee mother, it is brother, Chris (Tad Hilgenbrink), and sister, Nicole (Autumn Reeser), also named Emerson, who move to Luna Bay (also a beach town), to rent a house off of their nutty aunt after their parents are killed.
Other parallels include the surf shop scene which is essentially the same as the comic shop scene, except instead of meeting the Frog brothers there, they are recommended to visit the Frog brothers' van by the surf shop guys.
The surfer vampire gang attempts to follow the same layout as the previous film's biker vampire gang. This is pretty forgiveable because it would make sense, I suppose, that vampires share the same habits and hierarchy. I did appreciate Kiefer Sutherland's half brother, Angus Sutherland, playing the part of head boy vampire, Shane, but it really wasn't enough of a nod to save the film.
Hands up, I've admitted my, possibly misguided, appreciation of Corey Feldman before. But even I can say wholeheartedly that this film sucked and his performance did not help it. The nods to The Goonies also did it no favours.
Essentially, the protagonists are annoying and lack the more three dimensional characteristics of Michael and Sam from the original and the badly scripted dialogue doesn't give the impression of being tongue-in-cheek and comes across as more stilted.
I have a high tolerance for bad films, but I just wasn't feeling this one, and the end scene with Corey Haim remains a sad homage to the troubled actor. I also just feel plain bad for Jamison Newlander who's scenes were deleted. Although, maybe he's happy about not being officially credited in this film... I don't know.
All in all, I'd recommend either sticking to the wonderfully funny, cheesy 80s original and pretending there were no sequels at all, or giving the extremely crappy, cheesefest third one a spin and ignoring this one altogether.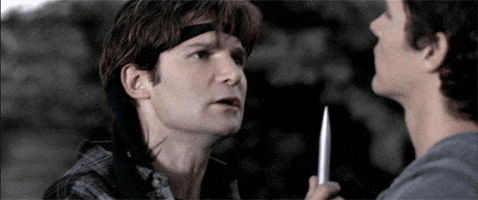 [Image: Thunder Road Pictures]
Can I ask what's meant to have happened to Edgar Frog's neck tattoos between film 2 and 3 or do we not talk about those?
Hani